Nancy S. Ypma, D.Mus.
When Gail asked me to write an article for Musforum,  I wrote back saying that I hadn't given many concerts in the last few years, nor had I done anything terribly unique in the "organ" world. As head of the music department and chair of the Division of Visual and Performing Arts at my university, I have been spending most my time teaching and taking care of administrative duties. I did mention that I had been honored with the title Distinguished Service Professor last spring and I also described some of what I had been doing over the last several years. I suspected Gail would say that she was looking for something different.  However, I was delighted when she said some readers might be interested in following the career of a music professor at a small liberal arts college.
So, to begin, I need to tell you that I started teaching at McKendree College in the fall of 1988.  When I arrived, there was a music minor in the catalog, but no one was minoring in music.  There had been a Music Education degree, but it had been dropped in 1982. When I was hired, I was told that my job was to rebuild the music program.  And in addition to that task, I was also asked to oversee the college's Fine Arts series. I suppose I should have been a bit daunted, seeing as I really had no previous experience as a college professor or Fine Arts Series Director, but I was excited and only saw the possibilities.
Today reflecting upon what I've been able to achieve the last thirty years, I feel incredibly fortunate and extremely blessed.   And, I've also realized, that the traits that made me a successful leader and administrator, were traits I learned as a student of music, as an organist and as a church musician.
Musicians are persistent people.  We won't give up until we've got it. As musicians, we keep practicing until we can perform the piece perfectly.  Persistence is the key to building anything, including a music program. One must persist in persuading others of what is needed to have a successful, quality program.  Over the years, I've met with people over and over to explain why we need new pianos, new desks, a piano lab, or more faculty. Eventually, the squeaky wheel will get the oil!  When I finally succeeded in getting approval to hire a third full-time music professor, the President of the University joked with me that I had been asking for this position for 20 years.  It actually had only been 18 years, but I just kept sending the request and rationale in year after year after year, and we finally got it. My polite, but determined,  persistence finally paid off.
Musicians also know the importance of patience.   Patience is needed when learning a difficult piece, such Reger's Fantasy of the chorale Straf mich nicht in deinem zorn, or in proposing improvements to the organ in your church.   In running a department, one has to be patient when working with others, when trying to implement new procedures or when explaining to others why musicians and others in the arts, think and work differently than faculty in other disciplines.  At McKendree, after the addition of the dance minor and theatre major, I felt it was very important that we have a division in which all the faculty in the arts could be housed, so we could work collaboratively.  Unfortunately, I suggested this idea just when McKendree College became McKendree University. I thought that if we were reorganizing the schools and divisions, it would be the perfect time to create a Division of Visual and Performing Arts.  Unfortunately, with all the other changes happening, my idea was the straw that broke the camel's back. One more change was not going to be accepted.  So, I waited.  Three years later, when I reintroduced the proposal, everyone thought it was a great idea.  We finally had our own division.
Musicians are accustomed to working hard and have an eye for detail.  During our student years, we spend hours in the practice room alone, practicing and trying to get every note, every dynamic and musical nuance just so.   As an administrator, one must also spend many hours alone, completing paper work, meeting deadlines, making sure the details of budget proposals are correct and planning course schedules for the next semester so ensemble rehearsals and theory, music history and music education courses don't overlap and that the sequences of courses will work for both four year and transfer students.
Musicians are creative people. As an administrator, you have to be creative in solving a variety of problems, whether it be a curricular, faculty or student issue.  We also must encourage creativity in our younger faculty.  Today faculty are often expected to help recruit students, in addition to teaching.   I am fortunate to have two younger colleagues who have enjoyed approaching recruitment in a variety of creative ways; one has developed a junior high summer band camp which brings over 150 students to campus each June and the other has developed a music major experience day which brings prospective music majors to campus.   I have thoroughly enjoyed supporting their efforts and working with them in making these types of events possible.
Musicians are (usually) good team players. Many of us have played or sung in ensembles and organists routinely work with conductors and choirs. We like people and we enjoy making music with others. Being a team player, liking people, and communicating well, are immensely important in building a program.  We also know as musicians how important it is to recognize our fellow performers' contributions and we make sure that they get a bow at the end of a performance. Effective administrators do the same by recognizing those who contributed to a successful event or project.
The Provost of McKendree, during her interview process, asked several of us why we had chosen to stay at McKendree.  I responded that I had stayed because I enjoyed building the music program, and every year, there was a new, exciting challenge. The first challenge was to grow the music minor. That was followed by re-establishing the music major and developing degree programs in Music Performance, Music Education, Music Marketing and Musical Theatre. The number of music faculty has grown from one fulltime faculty (me) to 3 full-time faculty and 20 associate faculty. We've added a dance minor and a theatre major.  We finally have a Fine Arts building, the Hettenhausen Center for the Arts.  I met Fern Hettenhausen, at one of the Fine Arts Series concerts back in the late 1990s and she gave the us the funding to build the first building dedicated to the arts.  Who knew that being the director of our small series would give me the opportunity to meet such a wonderful, generous woman, which result in a new building we had dreamt of for so long?
No – I haven't concertized as much as I once thought I would.  Instead, I've spent the majority of the last several years teaching and working to grow not just the music program, but also the art, theatre and dance programs on campus.  It has been great fun!  And I owe much of my success to my music teachers – who instilled in me what it takes to be a good musician…. and a good administrator.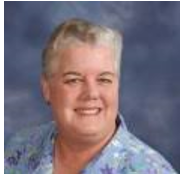 Nancy S. Ypma is Professor of Music and Chair of the Division of Visual and Performing Arts at McKendree University.  She received a BA in Music from UCLA where she studied with Thomas Harmon, and her Master of Music and Doctor of Music degrees from Northwestern University where she studied with Richard Enright and Wolfgang Rübsam.   When Dr. Ypma was a student at UCLA, she was one of 40 organists chosen from around the world to study at the Royal School of Church Music in England and she was subsequently invited to perform at Westminster Abbey.   Dr. Ypma has also studied in Cambridge, at the American Church in Paris and was part of a faculty exchange in 1999 which gave her the opportunity to study and perform in The Netherlands.  Dr. Ypma has also performed throughout the United States and in Canada.  Dr. Ypma is in her 29th year as organist and music director at St. George's Episcopal Church in Belleville where she directs both the Choristers and the Adult Choir.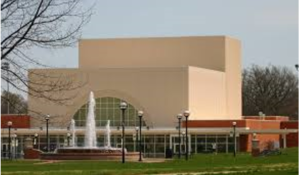 Hettenhausen Center for the Arts, McKendree University