BACH'S ORGAN WORLD TOUR:  July 20th – July 31, 2015, selected cities of Germany.
by Tamara Cashour
This past summer I was a participant, along with 18 other organists, in the Bach's Organ World Tour: a whirlwind study/performance tour of cities and small towns located primarily in the former East German sector of pre-unified Germany, which are home to organs with which the great composer/organist Johann Sebastian Bach had an affiliation, and in at least two cases, organs on which he was reputed to have actually played.  The tour, which visited the major cultural centers of: Dresden, Leipzig, Halle, and Berlin as well as selected smaller towns containing great organs (such as Naumburg and Wittenberg) was led by Quentin Faulkner, Professor of Music Emeritus at the University of Nebraska Lincoln and his wife Mary Murrell Faulkner who holds the DMA from the University of Nebraska and studied with the renowned Bach interpreter George Ritchie.  Mr. Faulkner gave a short lecture on the history and structure of each organ before we visited the actual instrument, (see below) and the couple were both extremely helpful to all participants in facilitating the most aesthetic approach to these instruments terms of our chosen repertoire.
Thank you to the Faulkners for hosting this tour, as well as to our extremely helpful and pleasant guides, Lothar and Ingrid Mohlmann.
I cannot say how much this tour was an incredibly uplifting, culturally intense experience for me.  Not only did we have a chance to play on these great organs as well as learn about their construction and hear their unique capabilities, but there was additional time on the tour allocated for visiting well known cultural sites in each city.  Some of the highlights that I had a chance to explore included: Dresden's Zwinger Museum and it's beautiful, positively breath-taking Frauenkirche;  The Bach Archives, Thomaskirche and Schumann's Haus in Leipzig, The Hansdelhausmuseum in Halle (where I saw a serpent, which is an archaic instrument that I have composed a part for in one of my musical theater songs!); and Martin Luthers Haus in Wittenberg,  which is an amazing museum that details the life and times of the great activist monk who dared to change the course of religious history.  In Berlin we were offered a three-hour guided bus tour which took us to all of the hotspots the city is known for: namely, the Brandenburger Tor, Checkpoint Charlie, the Holocaust monument and Museum as well as the Berlin Wall fragment and many other sites. Since I love the water and boats so much, I also afforded myself a relaxing river cruise in Dresden along the beautifully low, flatlining river Elbe-the banks of which are home to many species of birds, including the stork! My one small complaint is that most of the opera houses in each of the cities were closed for the summer, however I did get to see their lovely exteriors.
But lest I forget the purpose of the tour- which was to acquaint ourselves with these magnificent instruments and compare/contrast their sounds, I have listed below all of the instruments cities/organs we visited pm the Bach World Organ Tour, along with the names of the church housing them, their master builder, year completed and keyboard capability.
DRESDEN: Katholische Hofkirche-Kathedrale St. Trinitatis: Silbermann organ, 1754: 3 manuals and pedal
POMMSSEN: Wehrkirche: Richter organ, 1671: 1 manual and pedal, meantone
HALLE: Marktkirche: Reichel organ, 1663-4: 1 manual, no pedal, meantone
HALLE: Handelshaus Instrument Museum, 1769-70: Mauer organ: 1 manual and pedal
NAUMBURG: Wenzelkirche: Hildebrandt organ, 1746: 3 manual and pedal
STÖRMTHAL: Village Church:  Hildebrandt organ, 1723: 1 manual and pedal
WALTERSHAUSEN:  Stadtkirche: Trost organ, 1730: 3 manuals and pedal
WITTENBERG: Castle Church:  Ladegast organ, 1864: 4 manuals and pedal
BERLIN-KARLSHORST:  Kirche zur frohen Botschaft:  Migendt organ, 1755:  2 manuals, pedal
BRANDENBURG: Cathedral:  Wagner organ, 1725:  2 manuals and pedal
TANGERMÜNDE: Stephanskirche:  Scherer the Younger, 1624: 3 manuals and pedal, meantone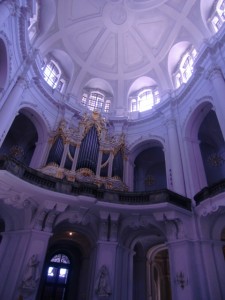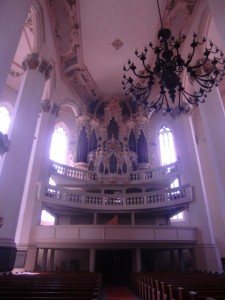 DRESDEN Silbermann Organ                                    NAUMBURG Hildebrandt Organ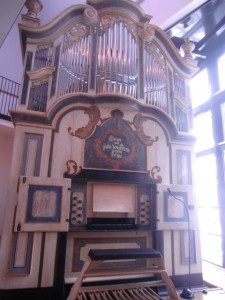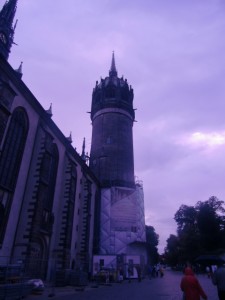 HALLE Mauer Organ at Handel Haus                         Wittenberg Tor under construction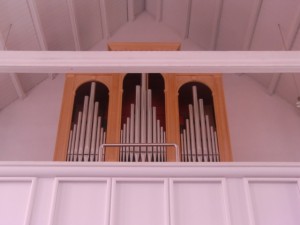 Small organ in the Marienkirche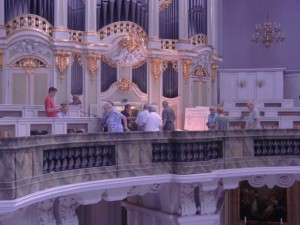 DRESDEN Bach Organ Tour group

POMMSSEN Organ close up
For more extended information on these organs, please refer to the attached PDFs. Photos of each organ visited accompany this presentation, along with selected video clips of demonstrations of their range/capabilities by their resident organist.music director. I will give a more detailed lecture of my trip for my congregation at the Presbyterian Church of New Rochelle, where I am the organist, in Spring 2016. This lecture will be followed by a short concert of Baroque organ music.
For more information, photos, and videos please visit:
https://drive.google.com/a/barnard.edu/folderview?id=0B19-4raPnO9ga1UydHBEUkJJc0U&usp=sharing