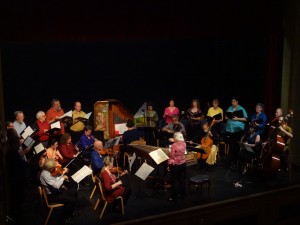 _____________________
Who's behind the Big Moose Bach Fest?
By Gail Scott
BERLIN/GORHAM—A couple of years ago Big Moose posters started appearing in August. They feature a moose face with big eyes and big antlers. The moose face suggests a treble clef. The posters say, "Big Moose Bach Fest. Labor Day Weekend."
Who would make a connection between the North Country moose and an 18th century German composer?
Who?
Susan Ferre and her husband, Dr. Charles Lang, who moved to Berlin/Gorham in 2007 after 30 years of music (and medicine) in Texas and abroad.
For the past five years Ferre has been organizing more and more musical events, including concerts during the summer, a scholarship competition for young people who would like to learn to play the organ, and a nonprofit organization called Music in the Great North Woods to oversee all of these and other musical efforts . The Big Moose Bach Fest is the most notable of these donation-only, musical events, featuring, as most do, the instruments and the vocal style of the Bach era.
This was not exactly what Ferre had in mind when she and Lang moved back to what Ferre has always considered home base—a farm on Gorham Hill.
Ferre planned to take it easy. After playing at times as many as 50 concerts around the world a year and directing an outstanding early music chorus in the U.S. for some 30 years, Ferre had decided to rest.
"(Directing the 16-member chorus) in addition to all the early music I was squeezing in with my own organ recitals all around, I just wore myself out," says Ferre.
Home base is a house on Gorham Hill built around 1920 by Ferre's Great uncle Bill and Great Aunt Babe (Frances) Nickerson. Summers Ferre's family always came back to the house and the Nickerson's 50-acre farm. In time, the farm passed to Ferre and her siblings, who now maintain a Certified Tree Farm on the property.
As the only stable place in her growing up years when her Dad's profession as minister and professor had moved the family from one place to another, Gorham has always meant home to Ferre, she says.
"I have memories of sleeping upstairs on a little bed that was made of straw. It had slats that were canvas so the straw conformed to your body. It was hard to move in it. There were lots of critters around: bats and mice. I remember that," she said.
But if Ferre had a yen to come home to Gorham despite the mouse/bat memories, Ferre's friends and fellow musicians from Dallas and elsewhere wanted to know where she and Charley had gone.
"(My friends) see this as a beautiful place to vacation and I hate to have them come up (to visit) and not offer them a chance to play," said Ferre in a recent interview.
"2008 was the first summer season we had concerts because many of our friends wanted to come up and see where we lived. Every Sunday afternoon we had a concert. It ended with Bach, Charley and me playing a Bach concert at Chapel Arts.," she remembers.
"After the concert, people said, 'Oh, we love Bach and you should do it every year,'" Ferre said.
"That was the last weekend in August in 2008," she said. "With the help of other musicians and music lovers already here, we incorporated as Music in the Great North Woods. Angela Brown (of Randolph) has been a wonderful partner in this."
The mission of Music in the Great North Woods has expanded beyond the Big Moose Bach Fest, but the weekend celebration of Johan Sebastian Bach's music was the initial impetus.
In planning for the unusual two-day event, Ferre and her partners thought, "If we do the Bach Fest on Labor Day Weekend, the extra day would give the (visiting) players and singers a day to get back home," Ferre continued.
The music of the Big Moose Bach Fest is performed as in the 18th century, with instruments of the time and the choral style of the time.
"It's another way to experience Bach, with original instruments and the clear tone of a small ensemble. The music becomes much more communicable and immediate. It has more power," Ferre said.
"There is a difference between the kind of musician who plays music to get ahead or to become a star or to earn money˜none of which happens in music- making unless you are Liberace," Ferre continued, explaining how it happens that so many of her friends who are outstanding musicians are happy to take part in the Big Moose Bach Fest. "There is the idea that music is to be shared and to be offered at any cost, and those are the people who are attracted to play or sing with me. It's about the music, not about getting a bigger reputation," she said.
In the early years, Ferre and Lang brought their historic instruments to Chapel Arts in Gorham where they first offered the donation-only concerts that have become hallmark of the concerts instigated by Ferre's vision of shared music.
In 2009, they moved their custom-built Bedient organ and other intriguing early music instruments to St. Barnabas Church in Berlin where Ferre has become the organist, offering every Sunday a sample of her virtuosity at the organ and directing a small group of singers.
Her skills are widely known. Despite her efforts to slow down, she is in demand elsewhere. Earlier this summer Ferré opened the summer series at the famed Methuen (Mass.) organ with a program of French music, and played a varied concert of favorites at St. Kieran to help raise money for RESPONSE to Domestic Violence, a program of CCFHS. This fall she will play in New York City's Church of the Ascension at the huge, newly installed French organ by Paschal Quoirin.
Among musicians, she is astonishingly highly qualified, although you'd hardly know it in conversation with her. Her personal style is friendly and unassuming. She was a Fulbright Scholar and recipient of numerous awards. She holds degrees from U. of North Texas, Eastman School of Music, Schola Cantorum in Paris, and Texas Christian University. She has taught at Pacific Lutheran University, Southern Methodist Church, Perkins School of Theology, U. of North Texas, and U. of Paris at Vincennes, France.
She took to music at an early age. As her father was a preacher, she had to go to church.
"When I was three, we had a piano and I would come home from church and pick out hymns on the piano. So, as soon as my mother could get lessons for me, she did," Ferre remembers. "I started my first lessons when I was five or six."
"I fully expected to be a piano major at college until there was a wonderful choral director for our choir. I was in choirs, too, from the time I was little," she remembers. "My father had invited some of the black choirs from Tennessee to sing in his little church in West Virginia. Marian Anderson came and the whole choir from Fisk (University, in Nashville, TN). I must have been five or six. I was already playing little things in church on the piano, but it so moved me to hear the choirs; I couldn't believe the choral singing. ….It just completely changed my life; it set a course that I never forgot. In camp, I was the camp song leader. My father used to sing spirituals in the car. We would sing and sing and sing on road trips. Singing was something we just grew up with."
As for the piano, "I have four younger brothers and sisters," Ferre says. "I could avoid family arguments. I would excuse myself to go to the living room, close the doors, and I had the piano to myself. It was a great escape," she remembers. "It still is a way to escape to that part of my brain that turns everything else off."
Music introduced her to Charley.
"I had just finished my doctorate in music and was going back and forth between the U.S. and France, when I met Charley. A harpsichord student of mine, asked me to play at her wedding. She said the only problem was that the church didn't have a pipe organ. She said, 'I can borrow a pipe organ from a doctor but he is a viola da gamba player so you have to ask him to play something.' . . . I didn't hear him play anything until the wedding so I gave him something simple to play in case he wasn't any good. He WAS! I was shocked," she remembers.
Soon thereafter, he called her to play harpsichord for a gig with a group he had formed. She did, and the group became the successful Texas Baroque Ensemble.
The group developed choral singing as well.
"We had 16 singers that were the envy of anyone in early music," Ferre says, mentioning David Grogan as one of the singers, who will be singing in the Big Moose Bach Fest this Labor Day weekend.
"Every musician we have had up here either has been or would be delighted to share their ability," she says. "All the Bach Fest people, just want to do the program, because it is so wonderful to do. That's the idea. Musicians generally are so generous they want to share their music, and that's the bottom line."
What happened to her urge to retire and take it easy? Ferre smiles a little helplessly.
"I just wanted to retreat to the mountains and be quiet˜or that was the plan.  Maybe next year!" she says.
[Here, put schedule for big moose Bach Fest, with that line about sponsors.]
Mary Gail ScottPhotographerPOBox 160Gorham, NH  03581MSCOTT1@Ne.rr.com